Migrating a large VB6 application can be a daunting task, especially if you face it with the wrong conversion software.
To help you in planning your migration and spotting the potential challenges, as experts in VB6 migration we have create an advisory services, completely free of charge. This is how it works.
First, locate the VB6 source code you wish to convert. Ideally, all this code should be in one directory tree and that directory tree should NOT contain source code that you don't want to migrate. If this is not the case, make a copy of the source code in a temporary folder, so that this folder only contains VB6 code to be migrated.
Next, download our VB6 Bulk Analyzer utility from this page, then copy VB6Analyzer.exe to the folder that contain your VB6 codebase, and run it. The analyzer will display the name of all files it parses, and then generates a text file named VBAnalyzer_Report.txt in its own folder.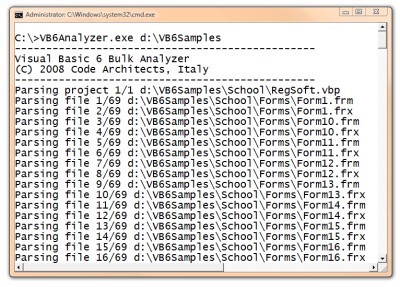 The contents of this file should be enough self-explanatory, but you don't need to interpret it yourself. Instead, go to our Write Us page, fill a few fields with your name and email, and use the dedicated field to upload the report file.
We typically analyze the report as soon as we receive it, of course if our office is open when you send it. (Please account for time zone difference… we live at G.M.T. +1.) We typically reply in a few hours, even though complex reports might take longer.
In return for your report you will receive a very detailed textual assessment of your VB6 application, with tips on how to leverage VB Migration Partner for a smooth migration experience. If a given issue has multiple solutions, the assessment document explains the pros and cons of each option. For example, the assessment often includes recommendations on the best way to migrate your ActiveX controls and your database-intensive code, among the other things.
The mail from Code Architects usually contains also information about the VB Migration Partner license that is most appropriate for your needs. For more information about our license terms, read the FAQ section and download the End User License Agreement (EULA).
If you like what you read, you can apply for a temporary Trial License. VB Migration Partner Trial Edition is identical to the Full edition except for a few details: it expires in 14 days, requires an Internet connection and generates VB.NET or C# code that can't be expanded with new forms and classes.
Users of the Trial Edition enjoy the same degree of support that regular users do, therefore it is an opportunity to test how good and reactive our tech support is.